Psychological Counselling
HPS Ramanthapur creates a child gifted and talented with a different way of looking at the world and learning. School is all about institutionalized nurturance of student's abilities through education and life skills development. There will be no replacement for human service in the development of a child. Counseling service is an integral part of our educational process in the school to support students in their developmental journey. Counseling psychology facilitates students in personal and interpersonal functioning across the life span with a focus on emotional, social, educational, vocational, and developmental concerns. The main focus of counseling is to support students to improve their wellbeing, alleviate maladjustment, resolve crises, and increase their ability to live more highly functioning lives.
At school, we listen and respond with core successful counseling conditions of empathetic understanding, unconditional positive regard, congruence, respect, confrontation, immediacy, concreteness, and self-disclosure in a way to help students to solve a problem and attain their potential. We also help them understand and improve one's behavior, character, values, or deal with life's circumstances.
Individual Counselling rendered out for children with the assistance of school authorities, teachers, and parents based on school referrals or self-references by students themselves to improve their overall personality.
Interventions in counselling like psychodynamic counselling, insight and short term counselling, interpersonal counselling, behaviour modification and cognitive approach in counselling, solution focused and integrative counselling, family and group counselling, eclectic counselling according to the individual needs.
"A man is a success if he gets up in the morning and gets to bed at night, and in between, he does what he wants to" – Bob Dylan.
We at HPS Ramanthapur firmly believe that we are not only creating good students but professionals of tomorrow. Professionals who will add value to society and go on to attain success in whatever they endeavor for. Therefore, it is very important that they understand their own strengths – academic and nonacademic and look at pursuing undergraduate education and profession accordingly.
Therefore, the career guidance activities – comprising of group sessions and individual counseling, aim to attain the following –
"Inform" the students about upcoming courses, careers, new age universities, and trends for college placements and "guide" them in the direction of choosing a course/career as per their strengths, interests, and personality.
Importance of CV building in today's world and how students can add to their extracurricular and create a stellar resume, which will, in turn, help them in securing college admissions.
Along with participating in the activities conducted in-house, students are also encouraged to participate in webinars and discussions conducted by various universities, summer internships and competitions to seek clarity on their undergraduate and earn certifications as well. The career cell keeps organizing webinars in collaboration with various universities where students have got a first-hand account of the preparation required to be "college-ready".  
To make sure that students are provided with the most updated information, we are also connected with forums like IC3 and participate actively in sessions organized by universities and platforms which bring together resources and stakeholders in the field of education together. This enables us to be abreast with the latest trends and pass this know-how to our students.
Recently, COVID limited our face-to-face interaction with students, however, we made sure to connect with them online and also got a glimpse of their world in due course of counseling!
There will be a plethora of exciting activities coming up from the career cell in the future!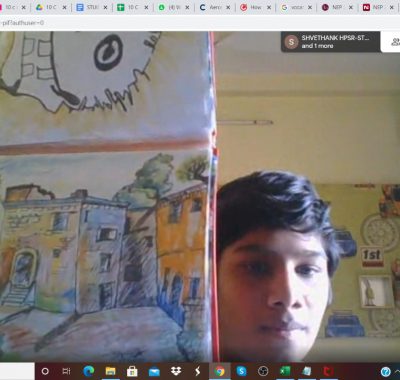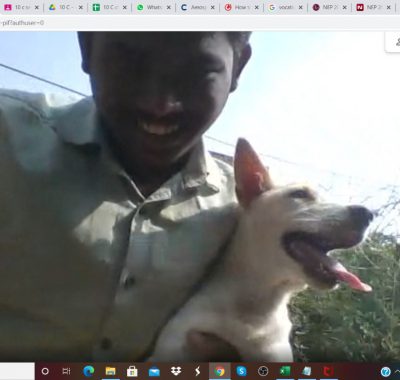 A slice from the child's world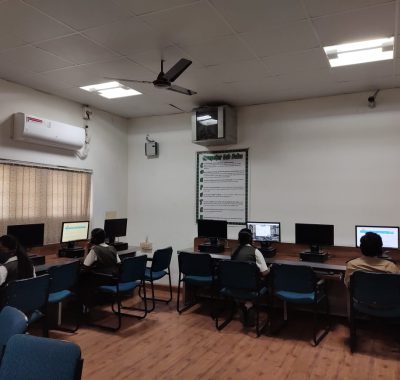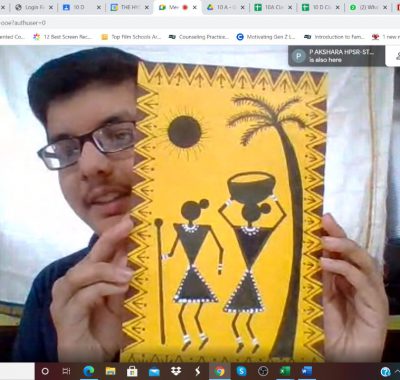 Varied expressions of the Artist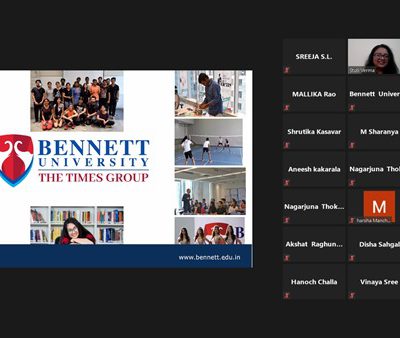 Session by Bennett University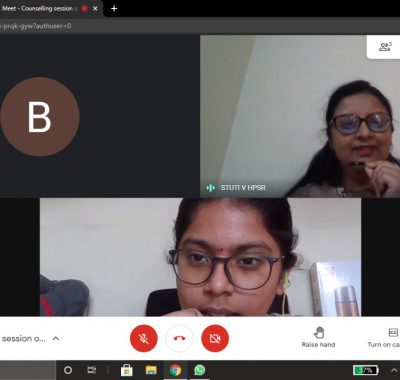 Counselling Interaction after group session
Bioinformatics – from clutter to better
As we step into our golden jubilee year, our alumni have come up with a "STEM Initiative", where students will be guided on STEM-related career options via expert sessions and other activities. This initiative is spearheaded by our alumnus – Rahul Sundar, a 2011 batch student, currently pursuing his postgraduate from IIT Madras.
Under this initiative, there was a session organized on "Bioinformatics – from clutter to better", where students were informed about Bioinformatics, different avenues of application, category of professionals who can have an interest/opportunity in this area, and much more. It was a pleasure to have Dr. Natarajan Ganesan, a Scientist with over 18 years of experience as our speaker for the day.
The session was attended by more than 70 students in grades 10, 11 and 12, along with the Principal Dr. Narasimha Reddy and the Vice Principal Mrs. Kiran Panjwani and the senior school teachers, who heard Dr. Natarajan with rapt attention which was followed by question & answer session .The talk gave an insight to the curious minds who are on the threshold of deciding what career they want to choose.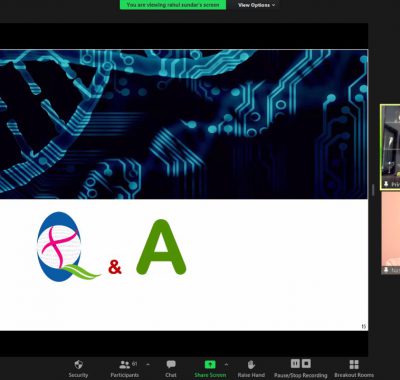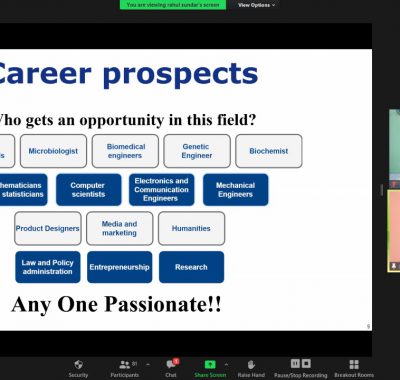 A slice from the child's world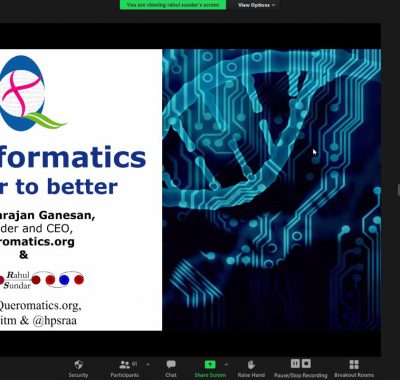 The importance of starting a career conversation early
23rd to 29th June,2021
Generally, students in grades 9 and 10 are not cognizant of the fact that they should start talking to a career counselor and start thinking of their careers, right in grade 9 and 10.
This session was designed for grade 9 and 10 students and was conducted over a period of 4 – 5 days with different classes, where students were made aware of the importance of starting a career conversation early. They were also given real-life examples, where students did not plan their career early and were indecisive until grade 12 and how it impacted their college admissions. They were also given a roadmap of activities for grades 9 – 12 to create a perfect career plan.This is indeed a promising drive made by The Hyderabad Public School to ensure that we gift productive human resource to the society.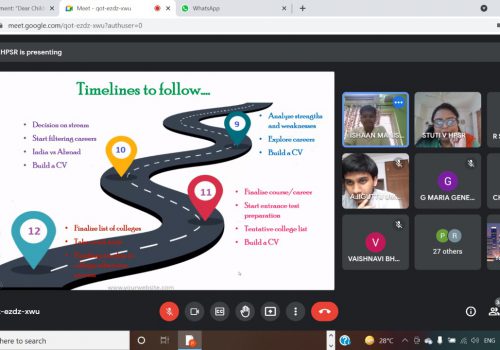 Personal Branding – Projecting the best "you"
21st and 22nd June,2021
The journey from being a high school student to a college student and a professional is arduous and demands a lot of changes and adaptations to be made, on the part of a student. This workshop was specially designed for grade 12 students (both outgoing and current grade 12), where they were made aware of the aspects, apart from academics that they need to take care of, to be well rounded future professionals.
Students were given information on email etiquette, good vs bad oral communication, good written communication, and ideal attitude towards people/work/studies. They were also given insights on the importance of networking and the role Linkedin can play, in establishing them as professionals.This was very insightful for the young adults.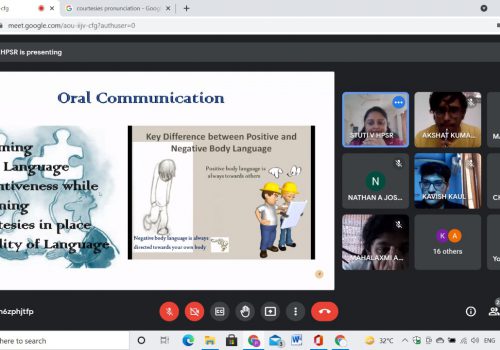 Mission college admission 2022
10 th July 2021
"Understanding trends and preparing" was the workshop specifically curated for parents of grade 12 (2021 batch) students. The workshop cum interaction session started with our Principal, Dr. Narasimha Reddy addressing the gathering, where he introduced the career counselor – Ms. Stuti Verma to the parents and reiterated the importance of planning college admissions in grade 12 and not wait for board exams to get over, to start looking at college options. He also urged the parents to connect and discuss their wards career and college planning.
The career counsellor took the session forward and shared college application and admission trends emerging since 2020, specifically due to the ongoing pandemic. She also shared a gist of activities conducted by the career cell and the set of activities/sessions lined up, to prepare the students to cope up with the changing trends and secure college admissions.
Tryst with Universities", the university meet series was unveiled – its essence was discussed, and all parents were requested to ensure their wards' participation in sessions to come for building their dream future together . The Hyderabad Public School believes in holding the hand of each of its students.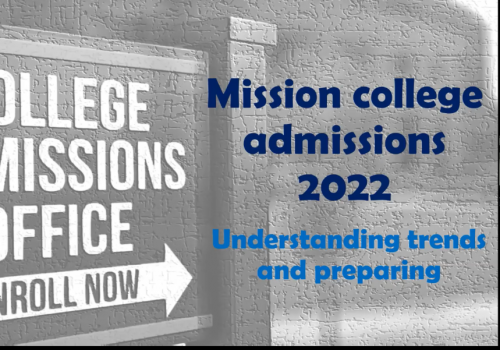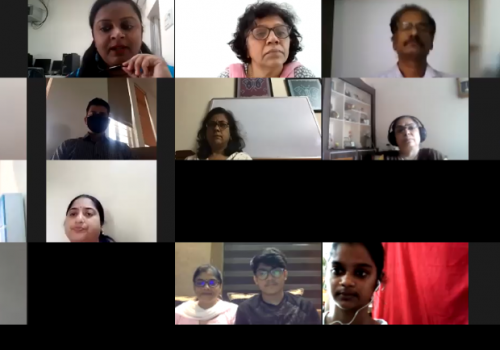 Building verbal ability for entrance tests
6th July,2021
This workshop was conducted by Times NIE, in collaboration with IMS, for grade 11 students. In this workshop, students were told about the importance of verbal ability, citing examples of various BBA, Law, Hotel Management and mass Communication entrance test patterns. They were also given some helpful tips on preparing for the verbal ability section of various entrance tests, in a limited time.